The 2014 Hunt - Cobb's Largest Egg Hunt
Cobb County's Largest Egg Hunt will take place on Saturday, April 19th, at Jim Miller Park in Marietta. The event begins at 10:00am and ends at 2:00pm. The 2014 Hunt will feature children's art activities, live entertainment, inflatables, and concessions. The Easter Bunny will be on hand to delight the children and there will be contests, including the Mad Hatter Contest and Decorated Basket Contest.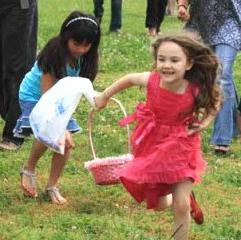 There will be five egg hunts which will be broken down into age groups. In each hunt, there will be special prize eggs. The schedule of events is as follows:

10:00am - Park opens
10:30am - 3 years & under hunt
11:00am - 4 & 5 years hunt
11:30am - Special Population's hunt
12:00pm - 6 & 7 years hunt
12:30pm - 8-10 years hunt
1:00pm - Mad Hatter's Contest / Easter Basket Contest
2:00pm - Park closes

Admission for The Hunt is free. For more information please call (770) 528-8875.
Cobb Archery Coach Receives Award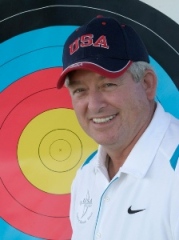 USA Archery, based out of Colorado Springs, honors excellence in coaching throughout the year. Nominees are submitted by archers, clubs, and peers in the coaching community, and certified USA Archery instructors and coaches vote to determine the winners. One of the four national winners is from Cobb County. Jim White has been named '2013 Developmental Coach of the Year' from USA Archery. As a Level 5-NTS Coach, and part of the Junior Dream Team coaching staff and International Team Staffing program, White has the opportunity to work with top athletes from across the country. However, he also coaches at the club level with the Kennesaw Archery Club and the Georgia Archery Team. His coaching record includes top international placements for Paralympians Lee Ford-Faherty and Anna Miscione, as well as strong national achievements for Sandra Kennedy and Doreen Likeness. Congratulations to Jim White for this prestigous award!
New Game in Town - Pickleball
Lost Mountain Tennis Center will be offering a new program called PICKLEBALL. We will provide some equipment that includes paddles and balls. If you have your own, feel free to bring them. The goal is to introduce players to the game and to schedule some play dates!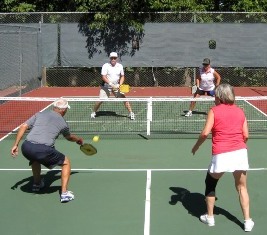 Pickleball is a sport played with a hard paddle and wiffleball. The game combines elements of badminton, tennis, racquet ball and ping-pong, and is played on a badminton-sized court. It is played as a singles game with one person per side or as a doubles game with 2 people on each side of the net. The object of the game is to score points by successfully hitting a 3" diameter plastic ball across the net without it being successfully returned by the opponent.

Pickleball is a simple game designed for all ages and any athletic ability level. Today the sport is played by people all across the U.S. Many seniors have taken up the sport in their retirement years, but it is also played by thousands of school children and top athletes in their 20s and 30s. It is an easy sport to learn and everyone can play the game after just a short time of hitting the ball back and forth across the net. However, it is also a sport where you can keep learning new strokes and increasingly sophisticated strategies for years on end. As the sport has grown in popularity it has continued to be played in back yards, but it has also spawned many competitive tournaments across the country.
Classes for Pickleball are offered at Lost Mountain Tennis Center. For more information, call Traci Thomas at (770) 528-8525. Come join the fun!