---

Outdoor Adventure Festival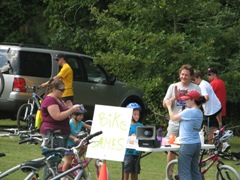 The second annual Outdoor Adventure Festival will take place on Saturday, August 16th . This is a free, family-friendly festival that will begin at 9:00am and goes on until noon. The festival will be held at the Cobb County Corps Property (Allatoona Creek Trails located at 5690 Old Stilesboro Rd. Acworth, GA 30101).

Participants will enjoy outdoor recreation and conservation activities through a variety of how-to sessions. Expert facilitators will introduce participants to activities such as: archery, birding, boating safety, bicycling, trapping, fly fishing, obstacle courses, shooting sports and hunting safety. Outdoor vendors will also be on hand to show the latest and greatest outdoor products.

The festival will have bicycle, running and hiking activities. Guided hikes are planned as well as guided trail runs. Bicycle demos will be on hand to let you try out the newest bikes on the market. There will be several bicycle contests for adults and kids, including a wheelie contest, limbo, bike toss and a slow race. For those outdoors men, women and kids who like to show off two activities at once, there will be a bicycle biathlon. The bicycle biathlon will be very similar to what you would see at the Winter Olympics; of course with a bicycle instead of cross-country skis.

If you would like to be vendor, exhibitor or facilitator for this event or would like additional information, contact John Purcell at john.purcell@cobbcounty.org or (770) 528-8825.

Adult Fall Flag Football Registration Begins Soon
Registration dates for the upcoming fall adult flag football season have been set. Returning teams (those that participated in the fall 2013 season) can currently register online through August 4th. To register online, team captains will need a 'PIN' number and 'Log-in ID'. These can be acquired from their league coordinator. In-person registration begins Monday, August 4th for returning teams and Wednesday, August 6th for new teams. In-person registration will be held at the PARKS' administrative office located at 1792 County Services Parkway, Marietta, GA 30008. Registration will be held from 6:00pm-8:00pm both days. League play will be held at Nickajack Park and will begin the week of September 8th. For more information, see the adult flag football web page or call Derrell Walker at (770) 528-8823.
2014 'Fun in the Park' Photo Contest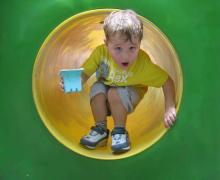 As you are out enjoying Cobb County Parks, Recreation and Cultural Affairs parks and activities, be sure to bring your camera and capture the fun and memories of your sports activities, the beauty of nature and wildlife in the parks, and anything else that shows why you enjoy your day at the park. The 10th Annual "Fun in the Park' Photo Contest will be accepting entries throughout the summer. Enter up to 10 of your best shots for fun and awards! Open to all photographers. Digital and print photos accepted. See rules and download entry form below at the photo contest web page.
Resurfacing of Silver Comet Trail; Closures Planned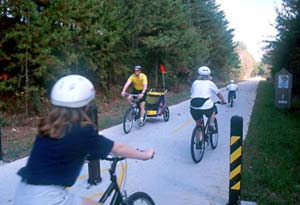 The 2011 Special Local Option Sales Tax provided funds being used to make major improvements around Cobb County and its six cities. For example, Cobb Department of Transportation staff is coordinating a resurfacing effort for the entire Cobb portion of the Silver Comet Trail, funded by SPLOST.
Resurfacing is expected to begin June 2nd and run through August 29th. The 12.8 mile trail will be repaired and resurfaced in four sections. Each two to four mile long section will be closed to all traffic for approximately three weeks. Work will included pavement repair, resurfacing, restriping and shoulder restoration. All closure dates below are subject to change:
Section one, Monday, June 2-Friday, June 20
Between Mavell Road and Floyd Road
Section two, Monday June 23-Friday, July 11
Between Floyd Road and Anderson Farm Road
Section three, Monday, July 14-Friday, Aug. 1
Between Anderson Farm Road and Old Lost Mountain Road
Section four, Monday, Aug. 4-Friday, Aug. 22
Between Old Lost Mountain Road and the Paulding County line
Resurfacing activities are only scheduled Mondays through Fridays, and some work is scheduled at night. The entire trail will be open for use on weekends and holidays. Each section will be completely finished and opened before the next section is started and closed. For more information about the project, visit the DOT website. For more information on the 2011 SPLOST and its impact, click here.