---

2014 North Georgia State Fair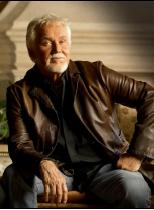 The 82nd Annual Superior Plumbing North Georgia State Fair will take place Thursday, September 18th , through Sunday, September 28th, at Jim R. Miller Park in Marietta. Attracting nearly 300,000 people throughout metro Atlanta, North Georgia and surrounding states, the Superior Plumbing North Georgia State Fair is the largest fair in metro Atlanta and the second largest in Georgia.

Exciting concerts are lined up for this year's fair. The Georgia Lottery Concert Series for the 2014 Superior Plumbing North Georgia State Fair under the covered arena includes:

- Francesca Battistelli on Friday, September 19th, at 8:00pm
- Mark Wills on Saturday, September 20th, at 8:00pm
- Jo Dee Messina on Wednesday, September 24th, at 8:00pm
- Travis Tritt on Thursday, September 25th, at 8:00pm
- Kenny Rogers on Friday, September 26th, at 8:00pm
- Craig Campbell on Saturday, September 27th, at 8:00pm

New for 2014 is the Sky Flyer ride. The tower of the ride is a sky-scraping 100 feet high! It has 12 arms on which the seats are held. Each seat holds two riders. Once passengers are safely loaded, the main tower slowly rotates and the arms and chairs are lifted in the air, giving a smooth and enjoyable experience. The ride gives a wonderful feeling of weightlessness.
There will be new live shows that are free with paid admission include Robinson's Racing Pigs & Paddling Porkers – come cheer on the funniest racing experience ever! Pig racing gets even better when celebrities like Britney Spareribs and Lindsay Slowham are vying for the coveted Oreo prize. Other new shows include 'Sandscapes', performance art the whole family will enjoy. You will want to bring the whole family back again and again as the Sandscapes sculptors transform 50 tons of sand into a specially-themed work of art throughout the run of the fair. The nationally-known Puppetone Rockers perform to millions of fans every year. The Puppetone Rockers captivate audiences with laughter, audience participation, super-positive messages and a great cast of characters.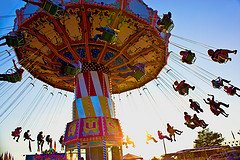 All-time favorite shows and attractions back again this year: Sea Lion Splash!, The Tiger Encounter with Felicia Frisco, and Brian Ruth "Master of the Chainsaw" will be back to transform raw logs into true works of art with only a chainsaw. Oscar the Robot, the entertaining roaming robot with razor wit and famous stroller races will also be returning to the fair this year. Wit Carson's Petting Zoo and the fair petting barn at the south entrance of the fairgrounds provide a fun and educational experience for children and adults alike. Pony rides also will be offered. Other long-time traditions will continue, including sanctioned flower shows, non-commercial exhibits, and more than 40 amusement rides and games courtesy of the Great James H. Drew Exposition.

Advance tickets can be purchased for $5.00 for adults, and $11.00 for a book of 21 ride tickets – which is 50% off. There is a $1.00 fee for postage and handling. Advance tickets are on sale, just visit our website to order tickets by credit card at www.northgeorgiastatefair.com or send a check or money order to: North Georgia State Fair, P.O. Box 777, Kennesaw, GA 30156. Orders must be postmarked by Wednesday, September 10th.

Regular tickets can be purchased at the gate at $7.00 for adults, with children 10 and under free. Ride tickets are $1.25 each, $20.00 for 21 tickets, $50.00 for 55 tickets and 120 tickets for $100. Parking is $3.00. ATM machines are located on the midway. Discount tickets will be available at all Metro Atlanta Walgreens through September 19th.

To visit the Superior Plumbing North Georgia State Fair, take Interstate-75 North to Exit 260 (Windy Hill Road) and go west. Go approximately five miles on Windy Hill Road, turn left on Austell Road then turn right on Callaway Road. Jim R. Miller Park is on the right. For information, call (770) 528-8989, and visit www.northgeorgiastatefair.com or facebook.com/thenorthgeorgiastatefair.
The Ulitimate Cheer Fest 2014
Cobb County P.A.R.K.S. and CheerTyme presents 'The Ultimate Cheer Fest 2014'. This cheerleading competition is open to all recreation cheerleaders. The event will take place at the Cobb County Civic Center on Sunday, November 2nd. There will be two divisions, "Show-only" and "Competitive Recreation". This is our 7th year offering this fabulous competition so don't miss out! Registration closes October 5th. You can download the registration packet here.
2014 'Fun in the Park' Photo Contest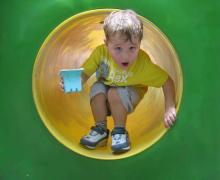 As you are out enjoying Cobb County Parks, Recreation and Cultural Affairs parks and activities, be sure to bring your camera and capture the fun and memories of your sports activities, the beauty of nature and wildlife in the parks, and anything else that shows why you enjoy your day at the park. The 10th Annual "Fun in the Park' Photo Contest will be accepting entries throughout the summer. Enter up to 10 of your best shots for fun and awards! Open to all photographers. Digital and print photos accepted. See rules and download entry form below at the photo contest web page.